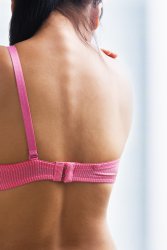 There are many ways that you can enhance your curves and look your very best. A skilled plastic surgeon will help you look trimmer, fitter, and more flattering by using the latest body sculpting and contouring treatments currently available. One of the most popular surgeries that can bring out the most in your curves is breast augmentation surgery. Even just a subtle change in your breast size can make a dramatic impact on your overall appearance.
Breast Implant Revision: Corrective Treatment for Complications
While breast augmentation surgery is often effective at enhancing a patient's curves and contours, there are times that a secondary surgery needs to be performed as a corrective measure. These revisions are often performed using the same incisions as the initial surgery when possible. This helps prevent the need for additional scarring.
Below are some of the most common reasons for breast implant revision.
Revision Surgery for Breast Implant Rupture/Leakage
When breast implants rupture or leak, it's important that they get replaced as soon as possible. These problems tend to occur after a major accident or serious trauma is sustained to the chest. Ruptured silicone breast implants are particularly serious given the health risks involved. During revision, ruptured implants are removed and replaced with new implants.
Revision Surgery for Capsular Contracture
Capsular contracture is a serious complication that can occur following breast augmentation. This involves the formation of constricting and compressing scar tissue around the breast implants, which causes the breasts to become misshapen and hard. The revision surgery will involve the replacement of the previous implants, helping relieve pain and improve the texture and appearance of the breasts.
Revision Surgery for Bottoming Out
Some breast augmentation patients get large breast implants, which can have a major effect on their appearance. In some cases, these large breast implants can sag in the breast pocket over time, leading to a poor and unnatural appearance. The revision surgery for breast implants that have bottomed out will often involve placing sutures under the skin to reposition the implants.
Revision Surgery for Symmastia
Symmastia is a complication in which the breast implants squeeze in toward the middle of the chest around the sternum. In extreme cases, the problem makes the breasts appear as one rather than separated. The revision surgery for symmastia will involve correction of the breast pocket in order to improve overall appearance.
Revision Surgery for Other Needs
If patients notice any issues with infection, excessive discomfort, or general dissatisfaction with their aesthetic results, these matters can be revised through the revision surgery process. We will be sure to go over all of the basics of the surgery with you in full detail so that you can make wise decisions about your general health and wellness as well as your aesthetic results.
Learn More About Breast Enhancement Surgery
If you would like to learn more about breast augmentation surgery, revision procedures, and how they can be of great benefit to you and your needs, be sure to contact our Darlen, CT cosmetic plastic surgery center today. The entire team here looks forward to meeting you in person and helping you achieve the best possible results with regard to your appearance and wellness.