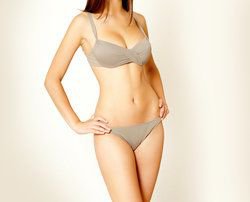 For women looking to improve body contour and enhance their feelings of femininity, breast augmentation can add volume and shape to the bust line, creating that curvy figure that many women desire. To ensure that women achieve the results they desire following surgery, plastic surgeon David Passaretti is very thorough in discussing the unique needs and desires of his patients. In this way, Dr. Passaretti and his patients can customize breast augmentation to each patient's specific goals. One important decision for patients undergoing breast augmentation is the type of implant that will be used. For our Darien patients, silicone breast implants are a very popular option. However, it is important that patients weigh the pros and cons of silicone implants so that an informed decision can be made regarding whether or not silicone is the right implant choice.
Cons of Silicone Implants
In the past, the safety of silicone implants was questioned. Patients can rest-assured that silicone implants are now considered completely safe and have grown in popularity as a breast implant choice. However, although silicone implants are safe, there are some downsides to consider. The primary disadvantage of silicone implants is that it can be difficult to detect if a rupture or leak occurs. Silicone implants contain a viscous gel that is not absorbed by the body. Because of this, it is recommended that women with silicone implants undergo periodic breast examinations to check on the structure of the implant. In addition to this disadvantage, the revision process for silicone implants is more difficult if a rupture does occur.
Finally, silicone implants are pre-filled and, therefore, require a larger surgical incision and offer fewer incision options to patients. While many patients who choose silicone implants are very happy with the cosmetic results, these cons should be considered before settling on silicone as an implant option.
Pros of Silicone Implants
Silicone implants offer one major advantage over saline implants. Silicone is a material that closely replicates the natural breast tissue. Because of this, the majority of patients find that silicone both looks and feels much more natural than saline breast implants. This advantage alone is one that leads many patients to opt for silicone implants for their breast augmentation procedure. For our patients who want to enhance the bust line while maintaining a natural feel and appearance, silicone breast implants may be the best option.
Dr. Passaretti will take into account each patient's needs and desires to recommend whether silicone or saline breast implants is the best option for each of his patients. No matter which type of breast implant is used, Dr. David Passaretti can produce beautiful results for his patients.
Schedule a Consultation
Breast augmentation is an excellent option for patients who would like to add volume to the bust line and enhance their figure. If you are interested in learning more about breast augmentation and your implant options, we invite you to schedule a consultation with Dr. David Passaretti at your earliest convenience. We look forward to hearing from you!