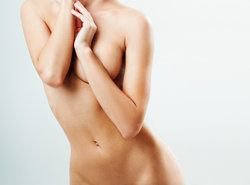 For a great number of women, the breasts are a vital part of their self-image. If a woman feels good about the size and shape of her breasts, it is likely that her self-esteem will also be high. Similarly, a small or deflated bust line can lower self-confidence. For women who have a naturally small bust line or those who have seen a change in the bust line over time, breast augmentation can add volume to the breasts while improving the overall shape of the bust line. When preparing to undergo this procedure, patients will face several surgical decisions, including which type of breast implants will be used: saline or silicone. Both implant types are safe and offer their own unique pros and cons, so it is important for patients to carefully consider both options and choose the implant that is best for them. For some of our Darien patients, saline breast implants will be the best option, while for others, silicone is the implant of choice.
Pros of Saline Implants
There are many factors to consider when making the decision regarding implant type. Saline implants, which consist of a silicone gel filled with a saline (salt water solution) offer our patients a number of benefits. Below are some of the pros of choosing saline breast implants:
Natural solution: Studies have shown that both saline and silicone implants are completely safe. However, some women still feel more comfortable knowing that saline implants are filled with a natural solution that can be easily and safely absorbed by the body should a leak or rupture occur.
Size flexibility: Saline implants are inserted as empty shells and then filled once in place. This gives Dr. Passaretti the ability to adjust the size of the implants to some degree. Although a size will be pre-determined, Dr. Passaretti can make minimal adjustments once the implants are in place so that the patient is able to closely achieve her desired breast size.
Incision options: Another benefit of using saline implants is that they require smaller incisions and can be placed through any incision site, including under the arm. Because of the size of silicone implants, the incision options are more limited for patients who opt for silicone breast implants.
Detection of implant leaks: Because saline is absorbed by the body, it will be immediately noticeable if a leak or rupture occurs. This also means that the problem can be addressed quickly and easily.
Cons of Saline Implants
There really is only one major drawback to saline implants and that is that they tend to look and feel less natural than silicone implants do. Saline implants tend to make the breasts look rounder in shape and also feel firmer than silicone implants, which are closer in consistency to natural breast tissue. Although this is the only real con for saline implants, for many patients this is one of the most important aspects of breast augmentation, so it is a con to be carefully considered before making a decision regarding implant type.
For all of our patients, the choice between saline and silicone implants is a personal decision. Dr. Passaretti is happy to discuss the pros and cons of each type of implant, but the choice is ultimately in the hands of our patients.
Schedule a Consultation
If you are considering breast augmentation and have more questions regarding the procedure, schedule a consultation with Dr. David Passaretti at your earliest convenience. Dr. Passaretti is happy to discuss the details of the procedure as well as all the surgical options that allow our patients to enhance their bust line according to their personal cosmetic preference.