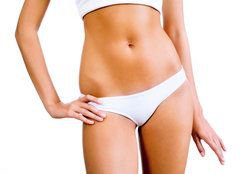 Dr. David Passaretti of Fairfield is committed to helping patients achieve a slimmer, trimmer, and fitter frame after losing lots of weight. You see, healthy diet and exercise will help you lose the excess pounds, but it won't tighten the skin that's been stretched out. One of the most popular options for these body contouring needs is the tummy tuck (abdominoplasty), which can make your stomach look trim and athletic. Sometimes patients will need a more advanced surgery than a traditional tummy tuck, however, which is where the extended tummy tuck is ideal.
About the Extended Tummy Tuck
Extended tummy tuck surgery is performed in order to address the drooping and sagging associated with major weight loss. This includes major drooping and sagging of the skin as well as severe stretch marks.
How the Extended Tummy Tuck Differs from a Traditional Tummy Tuck
The extended tummy tuck involves much more extensive incisions than a traditional tummy tuck. They are, essentially, the same sort of surgery, though one is designed to address serious body contouring and skin laxity issues that a traditional tummy tuck alone would not be able to address.
During a consultation at our practice, you will be able to find out if a traditional tummy tuck or an extended tummy tuck would be most idea for you and your needs.
Ideal Candidates for Extended Tummy Tuck Surgery
The best candidates for extended tummy tuck surgery are people who have lost a massive amount of weight. This is often people who were morbidly obese who lost their weight naturally or through bariatric surgery. They should be in generally good health and able to tolerate surgery well without experiencing any potential medical issues.
Scarring and a lengthy recovery time are involved after undergoing an extended tummy tuck, so it's important that patients have realistic expectations about the surgery and what the post-operative process entails.
The Extended Tummy Tuck Procedure
During the extended tummy tuck, three incisions are made forming a shape not unlike a ship anchor:
One incision around the belly button
A lateral incision that starts at the back of one hipbone and extends around the circumference of the sides and lower abdominal area to the back of the opposite hipbone
A vertical incision connecting the belly button incision to the lateral incision
Through these incisions, your surgeon will adjust underlying muscle and tissues, remove loose and excess skin, and then pull the remaining skin of the abdominal area and the sides tighter.
Recovery from Extended Tummy Tuck
Recovery from extended tummy tuck surgery can take a few weeks given the extent of the surgeries. Patients are advised to get a lot of rest and refrain from strenuous physical activity until advised otherwise by their surgeon. Light walking around the home is recommended while healing, however, in order to promote circulation and improve recovery experience.
Surgical drains will be placed in order to remove fluid accumulation in the treatment area. These will be removed in a week or two weeks depending on the patient's healing progress. A compression garment is commonly worn as the patient heals in order to support the tissues of the treatment area and reduce post-surgical swelling.
A Word on Total Body Lifts for Massive Weight Loss
When a patient loses a lot of weight, issues with skin laxity and body contour often affect other parts of the body apart from the abdominal area. During your consultation, we can go over total body lift options in order to revise other parts of your body where the appearance of the skin has been affected by major weight loss.
Learn More About Advanced Body Contouring Surgery
For more information about tummy tuck surgery and your many other options for major body lift and contouring surgery, be sure to contact our cosmetic plastic surgery center today. Dr. Passaretti and his entire team looks forward to meeting you in person and helping you achieve your aesthetic goals.