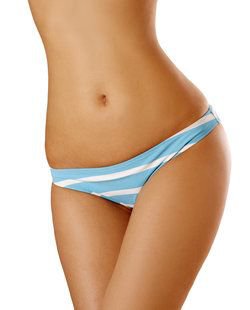 Dr. David Passaretti tailors each surgery to the needs of the individual, which helps ensure the best possible results. This is why so many people in and around Fairfield place their trust in him and his team. Properly tailoring surgery to the needs of patients is important when it comes to tummy tuck (abdominoplasty), a body contouring surgery for the stomach area. Sometimes a full tummy tuck is not necessary and all a patient needs is a mini tummy tuck, which we'd like to consider right now.
About Mini Tummy Tuck Surgery
A mini tummy tuck surgery is a less invasive form of tummy tuck surgery that is performed when a person needs only minor revision of their stomach. It can eliminate small stretchmarks and minor drooping of the lower abdominal area.
How Mini Tummy Tucks Differ from Traditional Tummy Tucks
The primary different between a mini tummy tuck and a traditional tummy tuck is that the mini tummy tuck generally only involves one incision whereas the traditional tummy tuck involves three incisions. We'll discuss the incision made during the mini tummy tuck in more detail below.
Ideal Candidates for Mini Tummy Tuck Surgery
The best candidates for mini tummy tuck surgery are people who have lost weight and experience minor issues with body contour along the lower abdomen. This usually means just a little bit of drooping or sagging of the skin that will not go away.
Candidates for mini tummy tuck surgery should be in good overall health to tolerate surgical procedures, ensuring that the mini tummy tuck will not be a potential risk to health or wellness. Realistic expectations are also important to have when it comes to mini tummy tucks. This ensures high levels of patient satisfaction as patients heal.
The Incision Used During a Mini Tummy Tuck
During the mini tummy tuck (which is performed under general anesthetic) there is only one lateral incision made along the lower abdominal area. This incision may span from hipbone to hipbone or may simply be located along the lower abdominal area over the pubic region.
Since the amount of skin tightened and adjusted is relatively minor, no incision will be made around the belly button to reposition it.
How long will the incision be for my surgery?
The extent/length of the incision will depend on your body contouring needs. During the consultation process, we will determine how we can best improve your overall body contour with as little invasiveness as possible.
Recovering from Mini Tummy Tuck Surgery
Recovery from mini tummy tuck surgery will take a few weeks, though most patients are able to return to work after about a week. Patients will be asked to refrain from strenuous physical activities that may affect the healing of the incision sites. A compression garment will likely be worn to provide comfort and support.
The consultation process will allow us to provide patients with details pre-op and post-op instructions regarding their mini tummy tuck surgery.
Additional Options for Body Contouring
In addition to the mini tummy tuck, there are other body contouring surgeries that are ideal for subtle skin tightening and body sculpting. Arm lift surgery, for example, can improve the look of the shoulders and triceps, or a neck lift can subtly improve the appearance of your facial features. We can go over all of these options during your visit so that you can undergo a total makeover.
Schedule a Consultation for Advanced Body Contouring Surgery
To learn more about mini tummy tuck surgery and your many other options for advanced body contouring and sculpting, be sure to contact our cosmetic plastic surgery center today.