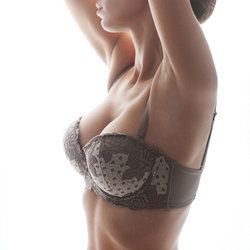 Many women enjoy having large, voluptuous breasts, while others wish to augment their breasts with implants in order to achieve more curvaceous figures. However, for women whose breasts are disproportionately large, the weight and size of their breasts can be a constant nightmare. Fortunately, breast reduction surgery offers a potentially ideal solution to such women.
Women undergo breast reduction for a variety of reasons. Some wish to bring their breasts into improved proportion with the rest of their bodies, while others want to reduce the amount of unwanted attention they receive from strangers. Many have struggled through years of back, neck, and shoulder pain that they simply want to bring to an end. Whatever your reason for considering breast reduction, you can rely on renowned plastic surgeon David Passaretti to produce artful, natural-looking results that make you feel comfortable once again in your own skin. His exceptional surgical skills and well-honed eye for aesthetics have helped thousands of women to achieve the contours they desired.
At Dr. Passaretti's state-of-the-art facilities in Fairfield, breast reduction candidates are carefully evaluated to ensure that they are well suited to the procedure. In general, most women with extremely large breasts who are in reasonably good health are suitable candidates for breast reduction. The only way to find out for certain whether the procedure is right for you is to consult Dr. Passaretti at your earliest convenience.
What is breast reduction surgery?
Breast reduction surgery is a procedure during which excess fat, skin, and other tissues are removed from the breasts in order to make them smaller and lighter. Because the procedure generally offers as many health benefits as cosmetic benefits, many insurance plans cover breast reduction either in part or in whole.
Are you a suitable candidate for breast reduction surgery?
However personal your reasons for undergoing breast reduction, there are certain criteria that all candidates must meet. Suitable candidates should:
Be healthy enough to undergo surgery
Have realistic expectations of their results
Be willing and able to follow all post-surgical instructions to the letter
Understand all of the risks associated with the procedure, including the risk of visible scarring
During your consultation with Dr. Passaretti, he will help you establish reasonable expectations for your surgery. As with any plastic surgery procedure, candidates must understand that breast reduction is not a cure-all for depression or low self-esteem. It can certainly help to boost a woman's self-image or confidence in her appearance. However, patients should be reasonably stable emotionally before undergoing breast reduction.
While the procedure may not cure all of life's problems, it can:
Reduce or eliminate certain physical ailments, including back, neck, and shoulder pain and discomfort from bra strap indentations
Reduce undesired attention from strangers
Allow you to fit into a wider variety of clothing
Allow you to exercise without your breasts interfering
To feel less self-conscious in public
Find Out Whether You Are a Candidate for Breast Reduction
To learn whether you are a suitable candidate for breast reduction, please contact the plastic surgery practice of David Passaretti, M.D., F.A.C.S. today.