Laser Treatment for Acne Scars Can Provide Smoother, Healthier Skin
Dr. David Passaretti understands that acne scars can be a major concern, and can greatly affect your self-esteem. He offers advanced laser treatment to improve the appearance of skin damaged by acne. Using a high-energy laser, Dr. Passaretti can reduce and eliminate the appearance of scars, including discoloration and uneven skin texture. To learn more about laser treatment for acne scars at our Darien, CT, practice, contact our office today.
Are You a Candidate?
If you struggle with acne scars, and more conservative methods, such as creams or microdermabrasion, have not been effective, you may be a candidate for our laser skin treatments. Patients with lighter skin usually achieve the best results, but those with darker skin may benefit from our less-invasive lasers. If you still struggle with chronic acne, you may not be able to undergo laser treatment, as current inflammation can increase your risk for infection. Dr. Passaretti will consult with you to discuss your goals and can recommend other skin rejuvenation procedures if laser treatment is not right for your needs.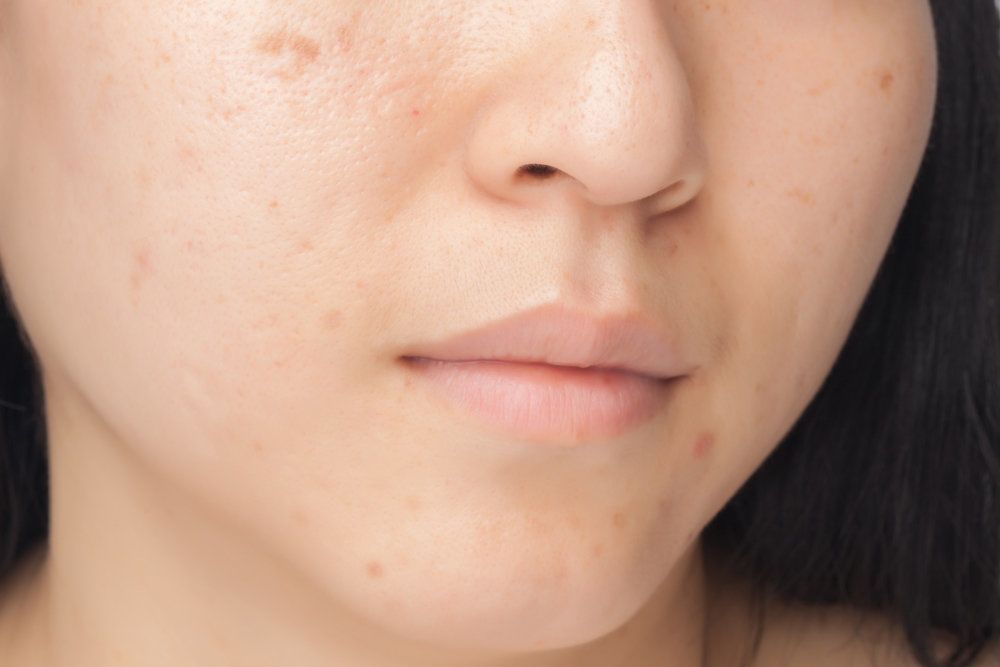 Laser Acne Scar Treatment Procedure
Our laser skin treatments are similar to other forms of laser skin resurfacing. The lasers remove upper layers of damaged skin, and target tissue underneath the skin to produce newer, healthier cells to develop.
Before performing laser treatment, Dr. Passaretti or another member of our team can administer local anesthesia and sedation if needed. We will then use a hand-held laser device to direct a high-energy beam through the skin. The procedure will take between 30 minutes and two hours, depending on the size of the treatment area. Patients generally compare the sensation to a slight stinging, similar to a rubber band snapping on the skin. Many patients are able to achieve desired effects in one to two treatments. However, more procedures may be required for optimal results.
Types of Lasers We Use
Our office uses the Fraxel® laser for acne scar treatments. The Fraxel® laser uses fractional laser technology to penetrate the top layers of the skin in precise locations. This process stimulates collagen production in the deeper cells and resurfaces the top layer of skin. The technique allows your body's natural healing and rejuvenation process to smooth uneven skin and diminish scars. Fractional lasers are less invasive than other more penetrative lasers, and require less recovery time, making them an ideal option for patients with minor scarring. Patients with darker skin can also benefit from this technology as it is less likely to cause uneven skin tone following treatment.
Laser treatment allows your body's natural healing and rejuvenation process to smooth uneven skin and diminish scars.
Recovery and Results
Recovery from treatment usually requires about five days of downtime. Patients undergoing treatment with Fraxel® technology may experience shorter recovery times. Typical side effects include redness and swelling. Rarer side effects such as bruising, blistering, or scabbing typically heal quickly and can be treated effectively. Dr. Passaretti can provide creams and ointments for discomfort and sensitivity.
Laser therapy can dramatically reduce the appearance of acne scars, giving you much younger and healthier-looking skin. In the weeks following the procedure, your skin will continue to produce more collagen, providing more noticeable results as time passes. You may also notice other effects, such as a more even skin tone, minimization of age spots or other pigmentation issues, and smoother textured skin.
Contact Us
If you suffer from acne scars and have been unable to achieve your desired aesthetics with more conservative procedures, laser treatment may be the solution for you. Contact us today to find out if you are a candidate.