Breast Implants
Small or unevenly sized breasts can cause you to feel self-conscious about your appearance and even take a toll on your quality of life.
Dr. David Passaretti can provide an enhancement using silicone or saline Mentor® implants, improving the size and shape of your breasts.
Can breast implants benefit you?
Implants Offer Life-Changing Results
for the Right Patients
Enhance Your Bust
You can choose the size and shape of your breast implants to
achieve the precise goals you desire
.
Dr. Passaretti
will carefully guide you to experience the most flattering results.
Create Symmetry
Most breasts are not naturally even but some are especially disproportionate. Breast implants can help you achieve symmetry for a more balanced bust line and proportions.
Improve Self-Confidence
After treatment, you can expect to feel more comfortable with your body. Many patients enjoy improved self-confidence that translates to many areas of their lives.
We Prioritize
Your Comfort & Safety
Many patients have concerns about undergoing an invasive procedure such as breast surgery. Choosing a reputable and experienced surgeon is the first step toward addressing these fears. Dr. Passaretti is a board-certified plastic surgeon with more than a decade of experience. He is trained in the most advanced techniques and adheres to the highest standards of care.
During your procedure, you can rest assured that your safety is our team's utmost priority. You will be placed under general anesthesia, often administered with IV (intravenous) sedation, which will be closely monitored. This will allow you to remain relaxed and comfortable throughout treatment. Additionally, our operating room is state-licensed and certified by the American Association for Accreditation of Ambulatory Surgery Facilities (AAAASF).
You Can Choose
Saline or Silicone Implants
Dr. Passaretti offers both silicone and saline breast implants. Each offers its own advantages and can significantly affect your results. Dr. Passaretti will help you determine which type of implant is ultimately the best for your cosmetic goals, lifestyle, and budget. If you are planning to have children or breastfeed after your augmentation, he can help you decide other details of your procedure that will be suited to your needs.
Breast implant surgery is an outpatient procedure that usually takes about one to two hours.
Day of Surgery
Dr. Passaretti is a board-certified plastic surgeon.
What to Expect during
the Recovery Process
Patients usually feel sore for two to three days. During this initial recovery period, you will need to wear a compression bra. After about one week, Dr. Passaretti will see you to remove your sutures and make sure the surgical site is healing properly.
At this time, you can begin light physical activity and return to work. You can resume normal physical activity and exercise after about two weeks. Your final results should become apparent after roughly two months, although many patients begin to see dramatic results within three to four weeks.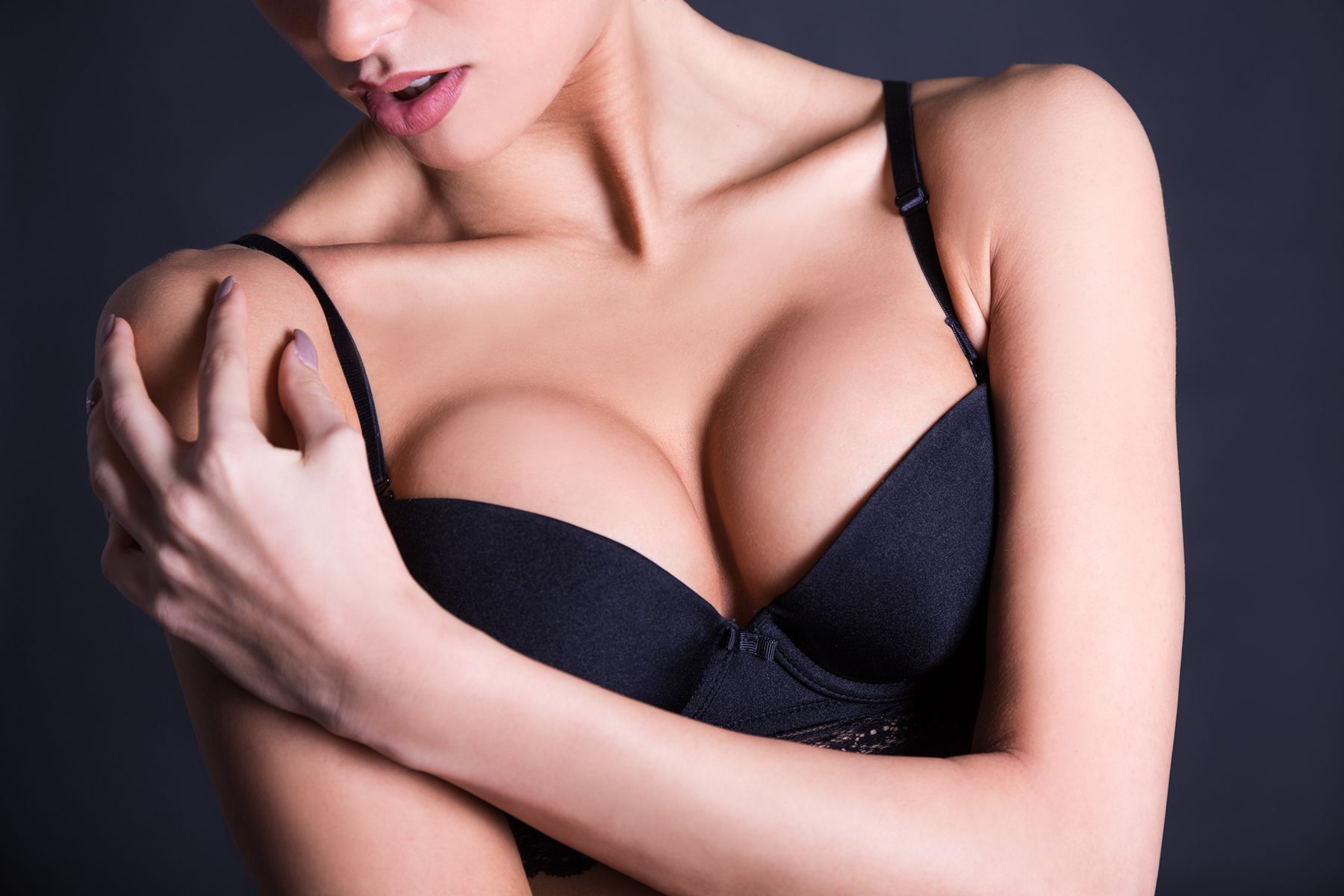 Types of Breast Implants
The two basic types of implants are silicone and saline.
Saline Implants
Saline breast implants consist of saline solution (salt water) contained within a silicone collapsible shell. Saline breast implants can be filled after insertion, so the empty shell can be inserted through small incisions in the:
Nipple
Navel
Armpit
Crease below the breast
After they are placed within the breast, Dr. Passaretti will fill these implants using a tube, which means the implants' size can be adjusted during surgery for a more even, symmetrical appearance.
Silicone Implants
Silicone breast implants consist of silicone gel contained within a silicone shell. Many women feel that silicone implants provide a more natural appearance and texture than saline implants. Silicone implants are designed to replicate the feel of natural breast tissue. They require larger incisions than saline implants and offer fewer insertion options because they must be filed prior to placement. The appropriate size is determined during preliminary consultations. For these reasons, it often takes women longer to heal from augmentation using silicone implants.
"Dr. Passaretti and his staff are very friendly, knowledgeable and helpful. Throughout the entire surgical process, I've had all my questions answered and I have felt very supported and secure... Dr. Passaretti and his staff are definitely experts in the field and I wouldn't recommend anyone else."

Christina vB
Gummy Bear Implants
In addition to silicone and saline breast implants, a new type of breast implant, known as gummy bear implants, has emerged. Dr. Passaretti does not use these implants because they feel more solid than traditional silicone and saline implants, and cannot provide the natural appearance that silicone and saline implants can
Choosing the right type of breast implants is important. Both saline and silicone breast implants are offered at our Fairfield County, Connecticut office and we can help you select the one best suited for your goals.
Implant Shapes:
Round and Teardrop
Just like saline and silicone implants are preferred for their different benefits, the shape of your implant is an important consideration. Before your breast augmentation procedure, Dr. Passaretti will provide a complete consultation and help you choose the breast implant shape that will best suit your body type and aesthetic goals.
Originally, round breast implants were the only available shape. Although teardrop-shaped implants have enjoyed a rise in popularity, round implants still remain the most common choice. These implants are symmetrical and have an even diameter. Round implants come in varying sizes, or projections. Women with a naturally small build or those who are looking for more subtle enhancement may choose a lower profile, while women who desire a dramatic boost and more noticeable cleavage may prefer a higher projection.
Teardrop-shaped implants are fuller at the bottom than they are at the top. Also known as anatomically shaped implants, this shape strives to mimic the appearance of a natural breast. Some women feel that these implants offer more natural-looking results. However, round implants have a natural flexibility, which means that they naturally assume a kind of teardrop shape when a woman is standing or sitting upright. Therefore, both shapes can have a highly lifelike appearance.
Our Actual Patient Results
This patient achieved fuller, rounder breasts with 375cc silicone implants.
---
Advantages of Round Implants
Dr. Passaretti prefers to use round saline and silicone implants for a number of reasons. First, round implants can increase volume at the top of your breast, as well as the bottom. This means that you could enjoy more dramatic results, while still retaining a proportionate, natural figure. Second, if a round implant rotates, your breast will still retain its natural shape. If a teardrop-shaped implant rotates, it will give your breast a distorted appearance, which will require revision surgery. To prevent rotation, teardrop-shaped implants are textured, so they do not feel as natural as their round counterparts. Lastly, many women feel that teardrop-shaped implants do not move as naturally as round implants when they lay down.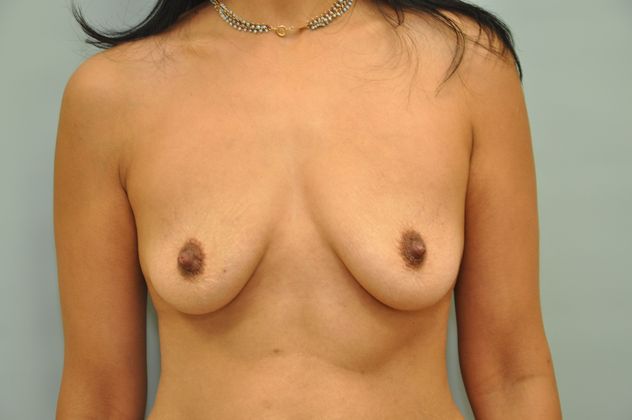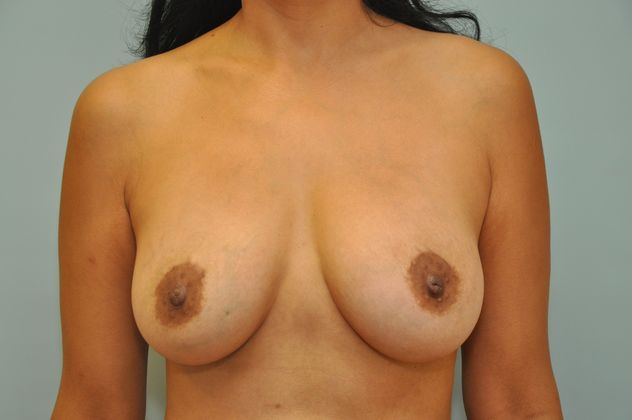 Breast Implant Revision
Dr. Passaretti has worked with many patients who have required implant revision surgery. This treatment can address:
Improper placement of implants
Rupture or leaking of the implants
Capsular contracture, a condition in which scar tissue surrounding the implant contracts, distorting the shape of the breast
It is expected that at some point in a breast augmentation patient's life, breast implants will require revision.
Providing a Positive Experience
"LIFE CHANGING EXPERIENCE! From the moment I stepped in the office I felt the warmth of support from everyone working there! My procedure was as promised, no surprises!"

Laura Farris
Ruptured Implants
When saline implants rupture, it will become almost immediately obvious to the patient because the breast will begin to deflate as saline is absorbed by the body. But because silicone implants contain a viscous gel, ruptures are not as evident, and the revision process can be more difficult.
All women should undergo regular breast examinations; if you have implants, these examinations can help to detect rupture.
Breast Implants Cancer
Recently, the Food and Drug Administration (FDA) discovered that there is a link between certain types of breast implants and the development of anaplastic large cell lymphoma. This breast implants cancer (T-cell lymphoma) is an incredibly rare but aggressive type of cancer. However, lymphoma should not be confused with breast cancer. Whereas breast cancer is cancer of the tissue within the breast, lymphoma is cancer of the blood. While T-cell lymphoma is aggressive, it is slow-growing and—when caught early—most cases are curable with implant removal and chemotherapy and radiation treatments. Dr. David Passaretti can help shed light on this type of cancer when discussing your breast implant options.
Signs and Symptoms of Lymphoma
According to recent studies, the FDA has received a total of 359 reports of breast implant-associated anaplastic large cell lymphoma (BIA-ALCL) as of February 1, 2017. Of those 359 reports, nine deaths have occurred as a result of BIA-ALCL. In addition, 231 reports included information on the implant surface, with 203 including textured implants and 28 as smooth implants.
Patients with late-onset lymphoma may experience persistent peri-implant seroma (fluid retention around the surgical site). Other symptoms may include:
Pain
Swelling
Lumps
Breast asymmetry
Should You Have Your Breast Implants Removed?
BIA-ALCL is much more likely to develop in women with textured implants than those with smooth-surfaced implants. At our practice, Dr. Passaretti offers only smooth-surfaced implants. Patients with existing breast implants should continue with regular checkups and should not remove their implants as a preventive measure, unless they develop any of the symptoms listed above.
Early Detection of Breast Implants Cancer
Before undergoing any form of breast implant procedure, patients should educate themselves on all the available options with their surgeon. Breast implants come in a variety of shapes, sizes, textures, and are sourced from many different providers.
BIA-ALCL is much more likely to develop in women with textured implants than those with smooth-surfaced implants. At our practice, Dr. Passaretti only offers smooth-surfaced implants.
Patients who currently have breast implants should get a routine mammography screening from a technologist specifically trained in performing this procedure on patients with breast implants. In addition, patients with silicone gel-filled breast implants should get periodic MRIs to detect ruptures, with the first MRI occurring three years after implant surgery and every two years afterwards. If you notice any changes in the shape or size of your implants followed by pain and swelling, you should contact your healthcare provider immediately to schedule an appointment.
In cases where a patient develops breast implants cancer, she should remove both the implants and capsule (scar), as well as undergo any necessary chemotherapy and radiation as directed by an oncologist. It is imperative to wait for complete healing before proceeding with additional breast augmentation. Once you have fully healed, Dr. Passaretti can discuss restoring breast volume with fat grafting.
Breast Feeding with Implants
It is possible for most women to breastfeed with implants. However, when you are designing your custom treatment plan, you must take into consideration several factors that can affect the supply of milk.
Position of Implant
The placement and size of your implant can affect the pressure within your breast, interfering with milk flow and reducing milk production. Implants that are smaller and located under the chest muscle are better for breastfeeding. Those placed between the glands and muscles of your breast are more likely to affect flow. If you know you plan to have children before you receive breast augmentation, opting for a submuscular implant can improve your chances of normal milk production. *
Location of Incision
The location of the incision may also interfere with breastfeeding. Incisions made under the breast or near the armpits rarely affect milk supply. If incisions are made across the areola or nipples, there is a higher chance that milk ducts and nerves may be affected, especially if the nipple was moved during the procedure. While having the incision near your areola or nipples does not mean you are unable to produce milk, it can cause significant issues when attempting to breastfeed.*
Scarring around the Milk Ducts
Scarring may form around your implants after surgery. This scar tissue may cause your breast to become firm or distorted, which can restrict milk ducts and affect milk supply. Some women who undergo breast augmentation require revision surgery to address excessive scar tissue.
If you have any concerns about breastfeeding with implants, Dr. Passaretti would be happy to address questions and discuss your best options. It is our goal to make sure you feel as comfortable and confident as possible.
Increasing Milk Flow
If you have difficulty producing milk with implants, there are several methods that can help increase your milk flow. Keep in mind that your milk production is dependent on how much milk is demanded. Nursing frequently and pumping can stimulate milk production and increase milk flow. In some cases, an herbal or prescription galactagogue can increase milk production. If you are concerned your baby is not receiving the nutrition they need, speak to a lactation expert. Remember, women without implants can experience difficulty breastfeeding as well, so low milk production may not be connected to your implant. *
Contact Us
For more information on saline and silicone implants, contact Dr. Passaretti today to schedule a personalized consultation.