Achieve a More Shapely Breast through Breast Implants
---
Breast augmentation surgery enhances the size of a woman's breasts using breast implants. At his state-of-the-art Fairfield County facility, Dr. Passaretti provides both saline and silicone breast implants from Mentor®. Both kinds offer unique benefits and aesthetic results. Dr. Passaretti can provide beautiful enhancements using both types of implants, and will help patients determine which implant is the best choice. Contact our office today for more information on breast augmentation.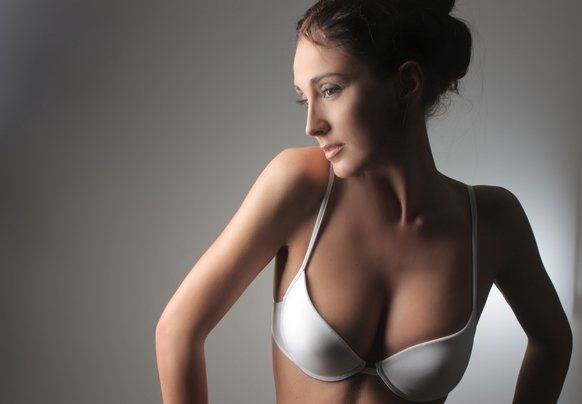 Types of Implants
The two basic types of implants are silicone and saline. Saline breast implants consist of saline solution (salt water) contained within a silicone collapsible shell. Saline breast implants can be filled after insertion, so the empty shell can be inserted through the nipple, navel, armpit, or crease below the breast using small incisions. After they are placed within the breast, Dr. Passaretti will fill these implants using a tube.
Silicone breast implants consist of silicone gel contained within a silicone shell. Silicone implants are designed to replicate the feel of natural breast tissue. They require larger incisions than saline implants and offer fewer insertion options because they must be filed prior to placement. The appropriate size is determined during preliminary consultations.
Dr. Passaretti will help you determine which type of implant, saline or silicone, is ultimately the best for your aesthetic goals, lifestyle, and budget. If you are planning to have children or breastfeed after your augmentation, he can help you decide which option is best suited to your needs.
In addition to silicone and saline breast implants, a new type of breast implant, known as gummy bear implants, has emerged. Dr. Passaretti does not use these implants because they feel more solid than traditional silicone and saline implants, and cannot provide the natural appearance that silicone and saline implants can.
Recovery after Breast Augmentation
After surgery, patients will usually feel sore for two to three days and should begin to feel normally after about one week. During this initial recovery period, patients wear a compression bra. After one week, Dr. Passaretti will see patients to remove their sutures and make sure the surgical site is healing properly. At this time, patients can begin light physical activity and may return to work. After two weeks, patients can usually resume normal physical activity and exercise.
The full results of breast implant surgery usually become apparent after two months, although many patients begin to see satisfying results within three to four weeks.
Breast Implant Revision
Dr. Passaretti has worked with many patients who have required implant revision surgery. This treatment can address improper placement of implants, rupture, and capsular contracture, a condition in which scar tissue surrounding the implant contracts, distorting the shape of the breast. It is expected that at some point in a breast augmentation patient's life, breast implants will require revision.
When saline implants rupture, it will become almost immediately obvious to the patient because the breast will begin to deflate as saline is absorbed by the body. But because silicone implants contain a viscous gel, ruptures are not as evident, and the revision process can be more difficult. All women should undergo regular breast examinations; if you have implants, these examinations can help to detect rupture.
Contact Us
For more information on saline and silicone implants, contact Dr. Passaretti today to schedule a personalized consultation.
"Thank you for making me look like a work of art! I sincerely appreciate everything that you've done for me."

-Plastic Surgery Patient